Staff Parish Relations Committee is excited to announce our new Pastors!
The following is the letter from Elizabeth McVicker, District Superintendent:
Dear Members and Friends of Shepherd of the Hills United Methodist Church,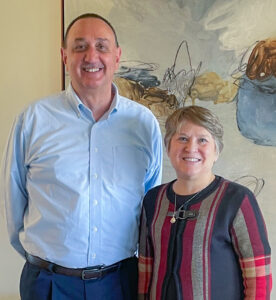 It is with sincerest gratitude and joy to announce that Bishop Karen Oliveto intends to appoint Rev. Derek DeToni-Hill and Rev. Joyce DeToni-Hill to serve as co-pastors of Shepherd of the Hills United Methodist Church. Rev. Derek is currently the Senior Pastor of Smoky Hill UMC, and Rev. Joyce is the Senior Pastor of Phillips UMC, both in the Denver area. They both bring a strong track record of compassionate pastoral ministry and church growth. The pastoral office will be shared equally by the two of them in a co-pastor model of ministry.
Unlike the senior pastor/associate pastor model of ministry, in the copastor model, both pastors are vested with the authority as lead pastors. Rev. Joyce and Rev. Derek have served together as co-pastors in much of their ministry and they look forward to serving the St. George community. The appointment will begin July 1, 2022.
Rev. Elizabeth McVicker,
District Superintendent