Knowing Christ and making Him known, serving Christ by serving others.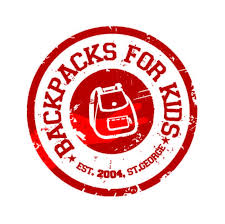 The board of Backpacks for Kids would like to say a huge THANK YOU to all of you who supported our fundraisers. We made 3500.00 from our dinner and the numbers are not in from the rotary club yet, but will be at least that much or more. With this amount we will be able to provide all the backpacks needed that is requested by the schools in Washington County.
We will be putting together backpacks August 5 and August 6. This is big undertaking. We will need as much help as possible those two days. Please fill out the form below if you can assist.
Supplying homeless and low-income students in Washington County with backpacks filled with required school supplies. 100% of donations go toward these supplies.
Each year our goal is to provide backpacks filled with school supplies to disadvantaged children. Our needs are growing annually. Our needs this year grew from 700 to over 800 backpacks. We project that 1,000 packs will be needed in the near future. Donations and volunteers are welcomed.