Knowing Christ and making Him known, serving Christ by serving others.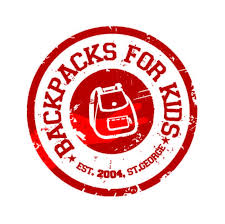 Our annual dinner and raffle fundraiser will be at the Elks June 4. We will be putting together baskets for raffles for each of them. We are taking donations of all kinds; types of ideas for basket donations, kitchen items, breakfast or supper items, children's baskets, spa baskets, candles, glasses, wine, chocolate, bath oils, outdoor sports items, backyard, patio items, we can usually make anything work into a basket. For more information or to donate items, please use the form below.
Supplying homeless and low-income students in Washington County with backpacks filled with required school supplies. 100% of donations go toward these supplies.
Each year our goal is to provide backpacks filled with school supplies to disadvantaged children. Our needs are growing annually. Our needs this year grew from 700 to over 800 backpacks. We project that 1,000 packs will be needed in the near future. Donations and volunteers are welcomed.