Knowing Christ and making Him known, serving Christ by serving others.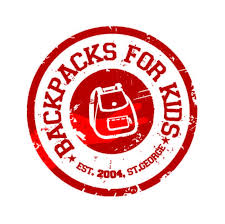 Saturday, May 1st – 4:00-7:00 p.m. Concert benefitting Backpacks for Kids at Centennial park. Two bands and food available for purchase. 301 N 2200 E, St. George. Concert flyer.
Saturday, May 15th – BACKPACKS FOR KIDS will be hosting their annual fund raiser at the Elks Club, We will have raffle items, a good chicken dinner, cash bar and a DJ.   Tickets will be $15.00 per person and will go on sale in April.  Click here for flyer.
We are looking for more items for our raffle.  We still have the items received last year, but we need more baskets, date basket items (ie choclate, wine, play/movie tickets, crackers, cheese);  and we especially need kid basket stuff (ie crayons, stuffed toys,beanie babies, summer toys, play items).   Contact Jean at or Helen using the form below.  We will make arrangements to pick up items.  
Friday, June 4th – The Rotary Club is sponsoring a golf tournament.  The charities being supported by the Rotary Club is, Backpacks for Kids, Neighborhood Connection and Washington County Search & Rescue.  Golf flyer. If you love to golf or just want to be a sponsor, or get more information, contact Jean and Helen using the form below.
We thank all of you for the support you have given Backpacks for Kids in the past.  Last year was difficult for many, including non-profits like Backpacks for Kids. We hope you will continue to support this group who was started here at SHUMC.